There are many different kinds of fireplace surrounds: modern, traditional, asymmetrical, antique, natural stone, manufactured stone etc. With so many options available, it can be a difficult choice to make!
To help you decide, here are a few things to think about when you're shopping for your fireplace surround: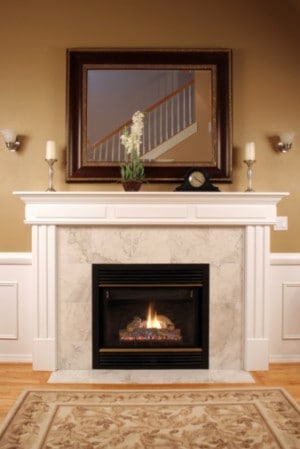 Function: The first thing you need to consider is what function your fireplace will serve. Will it be decorative or will you be using it for warmth? Will it be the focal point of your room or is it going to be more of an accent feature? Answering these questions will make it easier to decide on the material, colour, size, etc. of your new fireplace surround.
Size: The size of your fireplace will depend on a number of factors. First of all, you need to take the size of your room into consideration. You don't want to overpower your space with an oversized fireplace, but you don't want your fireplace to be too small either. Another thing to consider when deciding on the size of your fireplace is whether or not you want it to be your room's centrepiece. If you do, you should choose a slightly larger surround than you would if your fireplace was going to serve as an accent feature.
Colour: When choosing the colour of your fireplace, you need to think about your home's décor and colour scheme. If you have a more traditional style, you might want to stick with a neutral fireplace surround, like marble. If you have a more contemporary decorating style, you could opt for something bolder, like a colourful quartz fireplace surround.
Material: There are plenty of fireplace surround materials in a variety of different finishes to choose from. If you'll be using your fireplace often, you should consider opting for a durable material for your surround. At Custom Granite, we can manufacture durable fireplace surrounds in a wide range of materials, including granite, leather granite, quartz and marble.
Budget: With so many different materials on the market, the cost of fireplaces can vary greatly. That's why it's so important to develop a budget. Having a budget in mind before you begin shopping will keep you from getting attached to a fireplace surround, only to later find out that you can't afford it.
Value: For many home buyers, a fireplace is a very attractive feature to have in a home. If you're looking to make an investment that will add to the value of your home, you should talk to one of the design experts at Custom Granite in Hamilton. Together, we can develop a fireplace design that will not only look beautiful in your space, but will also make your home more appealing to future buyers.
Are you ready for a new fireplace surround? If you're interested in getting a marble, quartz or granite fireplace surround, choose Custom Granite. We have installed countless marble fireplace surrounds, as well as quartz and granite countertops in Burlington, Hamilton and the Niagara region. Visit our Hamilton warehouse or fill out our easy online form to get a free quote today!