Quartzite need not be a confusing stone.
Quartzite is a metamorphic rock made almost entirely of the mineral quartz. Quartzite begins its geologic life as sand grains, perhaps on a beach, desert dune, or riverbed. Over time, the sand grains become compressed and stuck together to form sandstone. If the sandstone gets buried ever more deeply underneath layers of rocks, it gets hotter and more compressed. With enough heat and pressure, the sand grains lose their original shape and fuse to their neighbors, forming a dense, durable rock. The process is similar to individual snowflakes merging into solid, glacial ice.
One of the appeals of quartzite is its hardness and durability. Not only does this make for a tough stone, but it also makes it easy to tell quartzite from the imposters. Quartz is 7 on Mohs hardness scale. It's nearly twice as hard as glass and harder than a knife blade. These things are easy to test
with a sample of stone.
Etching is caused by acids dissolving small areas on the surface of a slab of stone. While this process does not harm a stone, it does blemish the surface. One of the appeals of quartzite is that it does not etch from acids like lemon juice or vinegar. If a rock labeled as quartzite becomes etched from acid, then it is mislabeled. Marble and dolomitic marble, on the other hand, will etch from these acids. Dolomitic marble etches slightly more slowly than regular marble. But quartzite will not etch at all from normal kitchen acids.
Quartzite has a range of porosities. Some, like Taj Mahal or Sea Pearl, have been highly metamorphosed and the minerals are bonded together tightly. White Macaubas and Calacatta Macaubas have been exposed to less intense
pressure, so these stones are more porous and will benefit from sealing.
Things That Do Not Help Distinguish Quartzite from Non-Quartzite
The country of origin, price, or the names of a stone are not reliable indicators of what type of rock you've got. In many cases, it's not even possible to tell marble and quartzite apart visually. Information about a stone's origin is often passed along by word of mouth, which can perpetuate incorrect information. But you can look beyond what you hear about a stone and use the diagnostic tests to find out what it really is. Quartzite and marble can look very similar, but they have dramatically different properties. This is why testing the stones is the only assured way to tell them apart. Images from MSI Stone.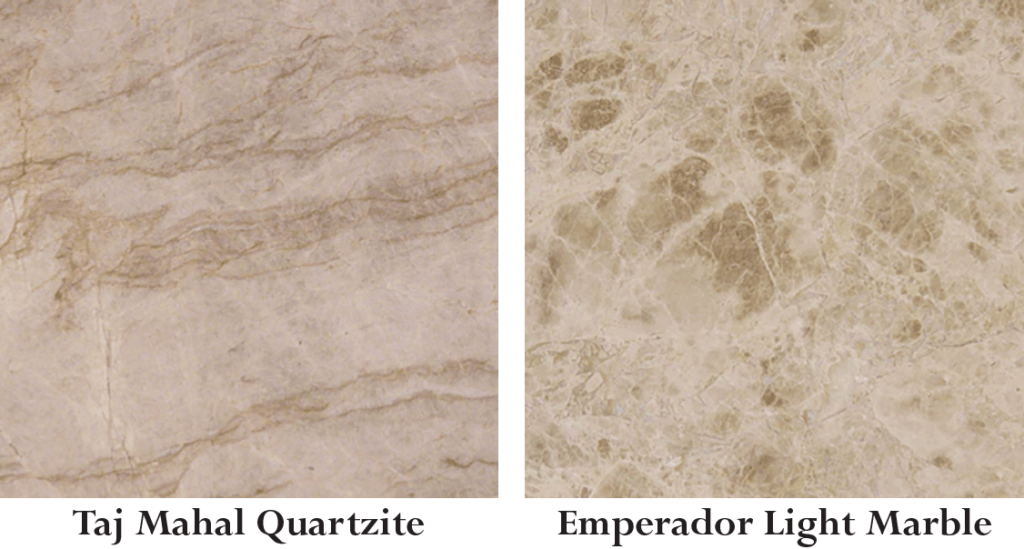 Largest Selection of In-Stock Quartzite
Visit our Showroom for our Quartzite Collection
Contact Us Or Request a Quote
To learn more about how leather granite can put a modern spin on your kitchen or bathroom and give it a brand new look or feel, contact us or stop by our showroom. For information on pricing, request a quote today.