Granite Creates a Point of Focus
Make your kitchen or bathroom counter the focal point.
Your home is your comfort zone and should reflect your taste.
Granite is an igneous rock, which means it was composed by the cooling of molten rock.
It is an inflexible stone and much skill is needed to carve it. Contemporary methods of carving include the use of rotary bits that are computer operated and sandblasting above a rubber stencil. Known for its toughness and durability granite is often used in the construction of areas of the home or workplace that take the most beating; granite countertops for the kitchen or bath are a perfect example. Like quartz, granite combines durability with beauty which is the perfect combination when considering construction materials for your home or office.
At Custom Granite and Marble, we have all the answers you need to provide just the right finishing touches to your kitchen or bathroom, and we're proud to provide you with a wide range of options to make your home look sleek and sophisticated. Although we are located in the Hamilton area, we serve all of Ontario, including Oakville, Burlington, Muskoka and the surrounding area with beautiful custom kitchen and bathroom countertops that will last for years.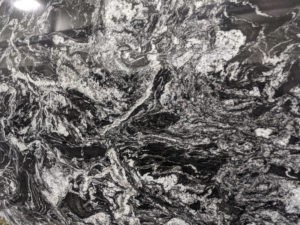 Granite
The stars dance across the stormy sky, illuminating you as
VIEW SLAB
Benefits of Using Granite in the Home
There are many benefits to using granite in the kitchen or bathroom:
Debunking the misinformation about Radon.
Thousands of Full Granite Slabs in Stock
Visit our Showroom for our Full Granite Collection
Contact Us Or Request a Quote
To learn more about our products contact us or stop by our showroom. For information on pricing, request a quote today.